x
Thank you for submitting an inquiry. We will get back to you as soon as we can.
Grecotel Marine Palace & Aqua Park
Grecotel Marine Palace & Aqua Park is an environmentally awarded hotel featuring 6 swimming pools and an aqua park with slide and fountain. Located on a picturesque bay near Panormo village in Crete, a few kilometres from Rethymno, Grecotel Marine Palace & Aqua Park is a complex built like a typical Cretan village.
The tastefully decorated rooms, studios and bungalows of Grecotel Marine Palace & Aqua Park are surrounded by fragrant gardens and offer views over the pool, the sea or the garden. Each unit is equipped with air conditioning, TV and fridge, while some also include kitchenette. The bathrooms are stocked with hairdryer and free toiletries.
The hotel offers an excellent range of all inclusive dining, including Greek, Mediterranean and Asian. Agreco, awarded best organic restaurant in the world, is the hotel's Cretan organic restaurant.
A wide range of sport and water sport facilities are available on site, as well as a spa centre including an indoor pool, sauna, steam room and a fitness room with cardio equipment. A host of boutiques and shops, 24-hour reception service and 24-hour medical care are also available on site.
Bali seaside village is located 14 km from Grecotel Marine Palace & Aqua Park , while Rethymno Town and Port are at a distance of 22 km. Heraklion International Airport is 62 km away. Free on-site parking is possible.
Facilities
24-hour security
24/7 reception
Activities
Air-conditioning
Airport Shuttle
Babysitting
Bar
Beach
Beach Front
Beach snack bar
Beach volleyball court
Buffet breakfast
Buffet breakfast, Lunch and Dinner
Café
Cakes served 3pm-5pm
Currency exchange
Drinks served 10am-midnight
Evening entertainment
Family Rooms
Fitness
Free toiletries
Garden
Hairdresser
Hammam
Indoor heated pool (winter)
Kids Friendly
Kids' club
Kids' outdoor play equipment
Kids' pool
Laundry
Live music/performance
Lunch and Dinner
Main restaurant with open buffet
Medical service
Mini fridge
Mini-golf
Nightclub/DJ
Outdoor freshwater pool
Parking
Pizzeria
Playground
Pool bar
Pool/beach towels
Private bathroom with shower
Restaurant
Safety deposit box
Satellite TV
Sauna
Spa
Spa/wellness packages
Sun terrace with sun-loungers
Swimming pool
Table tennis
Tennis court
Terrace
Water park
Water sport facilities (on site) Additional charge
Wheel Chair Access
Wi-Fi
Crete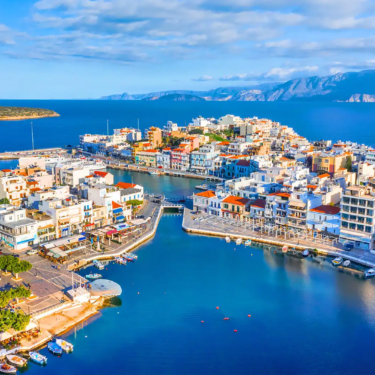 Crete is the largest island in Greece, and the fifth largest one in the Mediterranean Sea. Here, you can admire the remnants of brilliant civilizations, explore glorious beaches, impressive mountains capes, fertile valleys and steep gorges, and become part of the island's rich gastronomic culture. Crete is, after all, a small universe teeming with beauties and treasures that you will probably need a lifetime to uncover!
Where to go?
Chania
Chania (also spelled Hania) is the capital city, a place where different civilizations have flourished throughout the centuries. Strolling around the Old Town's maze-like alleys with the beautiful Venetian mansions, the fountains and the churches will guide you through well-preserved historical monuments.
The city of Chania is built on the area of Minoan Kidonia, at the end of the homonym gulf between Akrotiri and Onicha peninsulas. It was the former capital city of Crete (from 1847 until 1972). Nowadays, it is the second largest city of Crete after Heraklion and capital of the homonym prefecture.
Get familiar with the city of Chania by wandering around in its streets, visiting its museums and admiring the different architectural styles presenting the historical route of the city.
Rethymno
Rethymno is located in the north end of the prefecture, built by the sea and is a city with many faces. Rethymno or Rithymna as it was once called has been inhabited since the Later Minoan III period. Nowadays, it keeps the elements inherited by its history (from antiquity up to now), preserving at the same time the characteristics of a modern city. You can reach Rethymno by boat from Piraeus or by plane from Athens to Chania and then drive 60 km to Rethymno.
Heraklion
Heraklion is the largest city of Crete and one of Greece's major urban centres. The city flourished under a multicultural influence throughout the centuries; that's why there is a plethora of Byzantine, Venetian and Ottoman structures to look out for!
The city's landmark is the 16th c. Koules fortress in the westernmost side of the old Venetian port, which along with the fortification walls (dating back to the same period) are among the most significant and imposing sights.
Agios Nikolaos
Agios Nikolaos ("Ag Nik" as the British visitors love to call it) is the capital town of Lassithi. Here, the bottomless salt lake Voulismeni dominates the area. A narrow channel of water connects the lake with the sea, while an imposing backdrop of red rock and trees adds to the natural beauty of the scenery. A small pine tree park lies above the lake, and a stone path leads to its southern section to a cute small harbor for fishing boats.
The city boasts interesting Archaeological, Folklore, and Natural History museums, Byzantine churches, a well-organized marina, bustling pedestrian streets (ideal for leisurely walks), and traditional squares with buzzing cafés and restaurants.
Nightlife info
When it comes to Crete's nightlife scene, there really is something for everyone. The island has earned a reputation as one of Greece's best party islands, and lively resorts like Malia and Stalis are firm favourites among ravers who want to dance until dawn.
But elsewhere, you can find peace and quiet when the sun goes down. If you want to sample a slice of laid-back island life, the pretty coastal resorts like Aghios Nikolaos, Heraklion, and Chania will be right up your street. It's all about traditional tavernas and waterfront dining here.
So whether you're after a quiet evening on the waterfront, or you want to stay out until the early hours, you're sure to find what you're looking for on this island. Let's take a closer look at what Crete nightlife has to offer.
Crete's party towns
Crete is home to some of the best clubs and bars anywhere in the Greek islands. Lots of them stay open until the early hours of the morning, so you can make the most of Crete's nightlife, even if it takes you until 11pm to get ready! The biggest party animals among you won't want to miss out on a trip to Malia; Crete's non-stop party town is one of Europe's best-known clubbing destinations.
After spending your days chilling on the beach and swimming in the Mediterranean Sea, you'll be ready to hit the strip. It's right on the beach, so you won't have to go far to discover the all-night, non-stop nightclubs. You can really let your hair down at party venues like Candy Club and Zoo Bar. And don't forget about Malia's famous boat parties, either. Pukka Up Boat Party is just one of them and it wraps up in the early evening, so you'll be back on dry land in time to hit the bars and clubs.
Alternatively, you could head for Stalis and Elounda. These are two of Crete's other nightlife hotspots, and there's no shortage of late-night bars and clubs here, either.
Laid-back Crete nightlife
If you want to take things at a slower pace, you can head to charming resorts like Aghios Nikolaos, which are ideal for relaxed evenings beside the waterfront. You'll discover a wealth of pastel-covered tavernas on the lakeside and around the marina. Time it right and you can enjoy fresh seafood as you watch the spectacular sun set, with a glass of wine in hand.
A trip to Crete is your chance to indulge in some authentic Greek fare; how about gyros or souvlaki? You'll find traditional tavernas dotted around resorts all over the island, including Heraklion. It's the place to go if you want to experience traditional Cretan music and dancing, as well as jazz. Take an evening stroll around the historic old city, which is brimming with beautiful carvings and elegant Greek architecture. And stop off for a bite to eat along the way.
Chania is another highlight. Offering a blend of old and new, this seaside resort is home to a fascinating old town that lights up and night and a bustling port brimming with welcoming bars and restaurants. After a day spent exploring the maze-like streets, or hiking in the nearby White Mountains, you'll be ready for a meal in a friendly taverna.
Culture and history info
Crete (Greek: Κρήτη, Modern: Kríti [ˈkriti], Ancient: Krḗtē [krɛ̌ːtεː]) is the largest and most populous of the Greek islands, the 88th largest island in the world and the fifth largest island in the Mediterranean Sea, after Sicily, Sardinia, Cyprus, and Corsica. Crete rests about 160 km (99 mi) south of the Greek mainland, and about 100 km (62 mi) southwest of Anatolia. Crete has an area of 8,450 km2 (3,260 sq mi) and a coastline of 1,046 km (650 mi). It bounds the southern border of the Aegean Sea, with the Sea of Crete (or North Cretan Sea) to the north and the Libyan Sea (or South Cretan Sea) to the south.
Crete and a number of islands and islets that surround it constitute the Region of Crete (Greek: Περιφέρεια Κρήτης), which is the southernmost of the 13 top-level administrative units of Greece, and the fifth most populous of Greece's regions. Its capital and largest city is Heraklion, on the north shore of the island. As of 2020, the region had a population of 636,504.[4] The Dodecanese are located to the northeast of Crete, while the Cyclades are situated to the north, separated by the Sea of Crete. The Peloponnese is to the region's northwest.
Humans have inhabited the island since at least 130,000 years ago, during the Paleolithic age. Crete was the center of Europe's first advanced civilization, the Minoans, from 2700 to 1420 BC. The Minoan civilization was overrun by the Mycenaean civilization from mainland Greece. Crete was later ruled by Rome, then successively by the Byzantine Empire, Andalusian Arabs, the Venetian Republic, and the Ottoman Empire. In 1898 Crete, whose people had for some time wanted to join the Greek state, achieved independence from the Ottomans, formally becoming the Cretan State. Crete became part of Greece in December 1913.
The island is mostly mountainous, and its character is defined by a high mountain range crossing from west to east. It includes Crete's highest point, Mount Ida, and the range of the White Mountains (Lefka Ori) with 30 summits above 2,000 metres (6,600 ft) in altitude and the Samaria Gorge, a World Biosphere Reserve. Crete forms a significant part of the economy and cultural heritage of Greece, while retaining its own local cultural traits (such as its own poetry and music). The Nikos Kazantzakis airport at Heraklion and the Daskalogiannis airport at Chania serve international travelers. The palace of Knossos, a Bronze Age settlement and ancient Minoan city, is also located in Heraklion.
Climate
Crete straddles two climatic zones, the Mediterranean and the North African, mainly falling within the former. As such, the climate in Crete is primarily Mediterranean. The atmosphere can be quite humid, depending on the proximity to the sea, while winter is fairly mild. Snowfall is common on the mountains between November and May, but rare in the low-lying areas. While some mountain tops are snow-capped for most of the year, near the coast snow stays on the ground for a few minutes or hours. However, an exceptional cold snap swept the island in February 2004, during which the entire island was blanketed with snow. During the Cretan summer, average temperatures reach the high 20s to low 30s Celsius (mid 80s to mid 90s Fahrenheit), with maxima touching the upper 30s to mid 40s.
Flag harbour Chania, Crete, Greece
The south coast, including the Mesara Plain and Asterousia Mountains, falls in the North African climatic zone, enjoying significantly more sunny days and high temperatures throughout the year. There, date palms bear fruit, and swallows remain year-round rather than migrate to Africa. The fertile region around Ierapetra, on the southeastern corner of the island, has year-round agricultural production, with summer vegetables and fruit produced in greenhouses throughout the winter.[23] Western Crete (Chania province) receives more rain and the soils there suffer more erosion compared to the Eastern part of Crete
---
Read more
