Istanbul
Istanbul
This magical meeting place of East and West has more top-drawer attractions than it has minarets (and that's a lot).
Living History
İstanbul's strategic location has attracted many marauding armies over the centuries. The Greeks, Romans and Venetians took turns ruling before the Ottomans stormed into town and decided to stay – physical reminders of their various tenures are found across the city. The fact that the city straddles two continents wasn't its only drawcard – it was the final stage on the legendary Silk Road linking Asia with Europe, and many merchants who came here liked it so much that they, too, decided to stay. In so doing, they gave the city a cultural diversity that it retains to this day.
Art & Architecture
The conquering armies of ancient times tended to ransack the city rather than endow it with artistic treasures, but all that changed with the Byzantines, who adorned their churches and palaces with mosaics and frescoes. Miraculously, many of these remain. Their successors, the Ottomans, were quick to launch an ambitious building program and the magnificently decorated imperial mosques that resulted are architectural triumphs that together form one of the world's great skylines. In recent years, local banks and business dynasties have reprised the Ottomans' grand ambitions and endowed an impressive array of galleries, museums and festivals for all to enjoy.
Culinary Heritage
'But what about the food?' we hear you say. We're happy to report that the city's cuisine is as diverse as its heritage, and delicious to boot. Locals take their eating and drinking seriously – the restaurants here are the best in the country. You can eat aromatic Asian dishes or Italian classics if you so choose, but most visitors prefer to sample the succulent kebaps, flavoursome mezes and freshly caught fish that are the city's signature dishes, washing them down with the national drink, rakı (aniseed brandy), or a glass or two of locally produced wine.
Local Life
Some ancient cities are the sum of their monuments, but İstanbul factors a lot more into the equation. Chief among its manifold attractions are the locals, who have an infectious love of life and generosity of spirit. This vibrant, inclusive and expanding community is full of people who work and party hard, treasure family and friendships, and have no problem melding tradition and modernity in their everyday lives. Joining them in their favourite haunts – çay bahçesis (tea gardens), kahvehans (coffeehouses), meyhanes (Turkish taverns) and kebapçıs (kebap restaurants) – will be a highlight of your visit.
| | |
| --- | --- |
| Languages spoken | Turkish English |
| Currency used | Yeni Turkish Lira YTL |
| Area (km2) | 2,063 mi² |
| Country name | Turkey |
Nightlife info
Revel in Istanbul's nightlife
Though Istanbul's nightlife scene has suffered some setbacks, you can't keep a good party town down. For a traditional night out, head to one of the Beyoğlu district's meyhanes, tavern-like restaurants serving meze and fish where sing-alongs of classic songs flow with each new round of rakı, an anise-flavored liquor. Lively crowds of young beer-drinkers fill the pubs of the Beşiktaş Çarşı and central Kadıköy, while a swankier set sips cocktails near the Bosphorus in the bars and cafes of Bebek and Arnavutköy. For the full Istanbul experience, top off the evening by joining your fellow revelers in lining up for some late-night street food.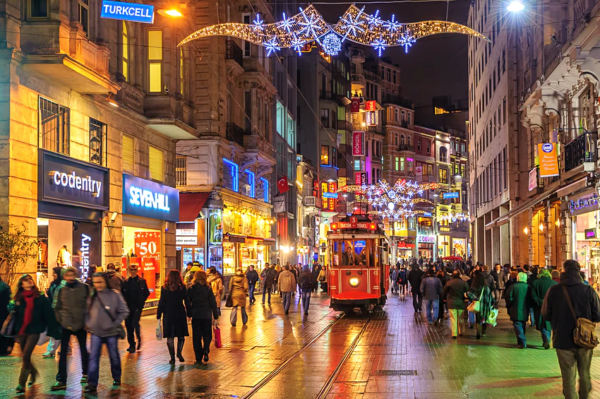 Culture and history info
Admire the architecture of Süleymaniye Mosque
Commissioned by the Ottoman sultan Süleyman I, known as "the Magnificent," this 16th-century mosque has a fittingly grand perch atop one of the old city's seven hills. The view from here is one of the finest in Istanbul, looking out over domes and rooftops to the confluence of the Bosphorus and Golden Horn waterways and beyond. With its elegant symmetry and soaring interior, the mosque itself is considered among the masterpieces of the great architect Mimar Sinan. The complex around it is inviting and serene, with tall trees, a grassy lawn and a rose-studded cemetery.
Go underground at the Basilica Cistern
When the Byzantine emperors decided to build something, they certainly didn't cut corners. The extraordinary subterranean Basilica Cistern, located opposite Aya Sofya, features a wildly atmospheric forest of columns (336 to be exact), vaulted brick ceilings, mysterious carved Medusa-head capitals and ghostly patrols of carp. A testament to the ambitious town planning and engineering expertise of the Byzantines, the cistern has played a starring role in innumerable motion pictures (remember From Russia with Love?) and is now one of the city's best-loved tourist attractions.
Go tile-mad at the Blue Mosque
Officially named the Sultan Ahmed Mosque, after the early 17th-century Ottoman ruler Ahmed I, the Blue Mosque gets its better-known moniker from the color of the tens of thousands of İznik tiles that adorn its interior. With its enormous courtyard, grand prayer hall and six minarets (an unprecedented number for a mosque when it was constructed) this is a building made to impress – and to rival the Aya Sofya, which sits directly opposite across a landscaped square.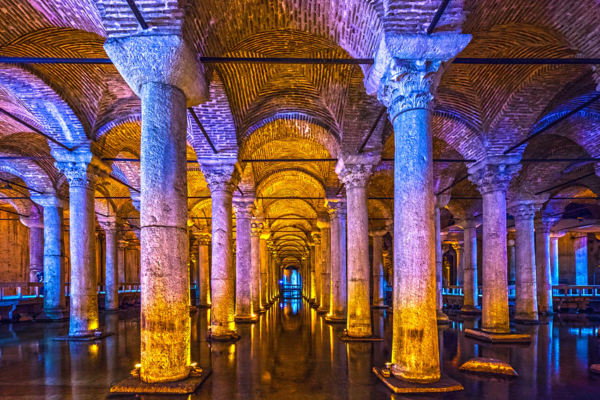 Unfortunately no tours were found.
Unfortunately no cruises were found.
Unfortunately no car rentals were found.
